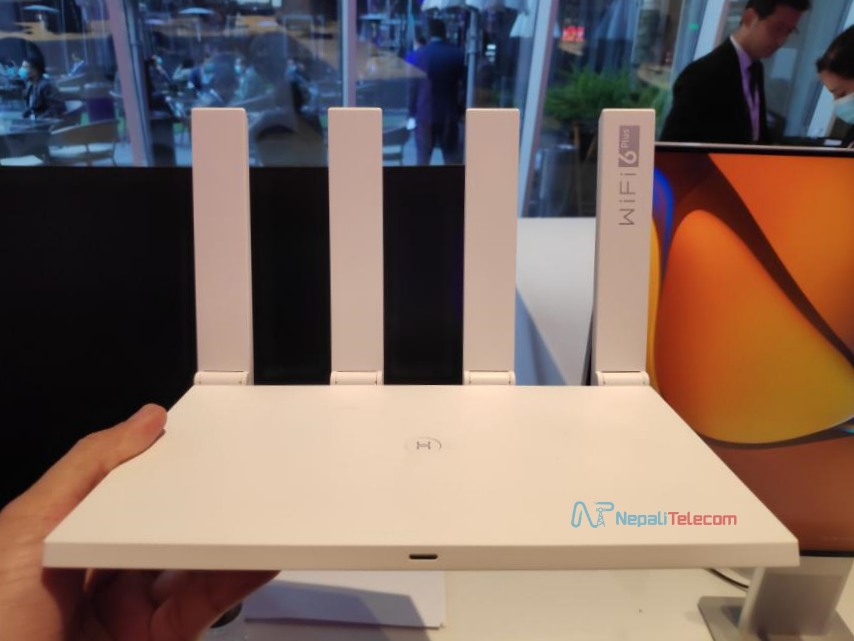 Huawei has introduced Wifi 6 supported routers in Nepal. Call Mobility Pvt. Ltd., the authorized distributor, also exhibited the routers in the Huawei Connect 2021 Nepal session event. In this post, you will find the detailed specs and Huawei Wifi 6 routers' price in Nepal.
Lately, Huawei introduced three new routers among which two of them are Wifi 6 capable. The Wifi 6 capability in the routers improves your internet experience at large, with higher speed and reliable connections.
Check out: Dish Home launching Wifi 6 routers in Nepal
Huawei Wifi Routers in Nepal
The latest Huawei routers available in Nepal are:
Huawei WiFi WS5200
Huawei Wifi WS5200 router comes with Gigabit speed (Wifi 5) and has a dual-core 1.2GHz processor. Similarly, it supports DBDC (Dual-band dual concurrent) APs working on both 2.4 GHz and 5 GHz bands at the same time. It can support 64 users with 32 users on each band. Further, the router supports parental control features too.
Specs
Dimension: Height: 205 mm, Width: 120 mm, Depth: 39 mm
Weight: About 237 g (excluding the power adapter)
Wi-Fi Transmission Standard: 802.11 ac/a/n 2 x 2 & 802.11 b/g/n 2 x 2, MIMO
Wireless Transmission Rate: DBDC, 1267 Mbps
Wireless Frequency Band: 2.4 GHz & 5 GHz, dual-band auto-selection
Processors CPU: Hi5651L, Dual-core 1.2G processor | Memory: 128 MB DRAM + 128 MB Flash
Network Port: One WAN GE port, Three LAN GE ports
Power Supply: 12 V DC, 1 A
Security: Anti-brute force algorithms, WPA-PSK / WPA2-PSK Wi-Fi encryption, firewall, DMZ, PAP / CHAP, DMZ / DoS attack protection, parental control
Key: Reset / Power / H, support HiLink device one-click pairing, compatible with WPS
Price in Nepal: Rs 5500
Don't miss: How to improve Wifi Internet Speed in Nepal?
Huawei WS7200 AX3
Huawei WS7200 is a Wifi 6 capable router and has Quad-core 1.4 GHz processor. The speed with this router is around 3 Gbps, having 2X2 MIMO feature. Similarly, the device supports 128 devices on dual bands.
Specs
Dimensions: 225 mm x 159.2 mm x 39.7 mm
Weight: About 403 g
Wi-Fi: 802.11ax/ac/n/a 2 x 2 & 802.11ax/n/b/g 2 x 2, MU-MIMOWireless speed is up to 2976 Mbps (2.4 GHz: 574 Mbps; 5 GHz: 2402 Mbps)
Processors: Gigahome Quad-core 1.4 GHz CPU
WAN Interface: WAN: One 10 / 100 / 1000 Mbps Ethernet port
LAN: Three 10 / 100 / 1000 Mbps Ethernet ports
Key: H button for one-key pairing and WPS compatible, Independent Reset
Led Indicator: 1 state indicator light
APP: HUAWEI AI Life App
Software Functions: Huawei Share (Tap to Connect), Huawei HiLink & 802.11v protocol, IPv4 / IPv6, PPPoE / DHCP / static IP address / Bridge WAN connecti
Read the full story at www.nepalitelecom.com
---
—
Read the full article at Nepal123.com